+1 you guys deserved better
come on ion

fix us
The continued additions of hair colors to some races suggests they have not forgotten customizations brother.
Keep the hope strong.
As am I my friend!
All of us deserve to be on par with Dracthyr.
Mechagon Prevails!


So far this expansion, Zandalari trolls, humans, orcs, nightborne, and dark iron dwarves have received new customization options, including hair colors, eye colors, and skin colors. Since allied races are in the mix, I am hopeful that mechagnomes might get some new options as well. It seems like these minor patch updates are focusing on recolors of existing assets, instead of new features like hairstyles, faces, tattoos, etc. With that in mind, new cybernetic eye colors (currently just limited to blue) and more colorful Gnomeregan hair colors could be reasonable additions based on what we have seen so far. Potentially even new metal colors, which would be huge. I still hope we get more comprehensive updates at some point for the races that are lacking options.
Also, I found this cool concept of a whimsical mechagnome penny farthing mount by artist Jordan Wills. I hope we continue to see new mechagnome-themed transmogs and mounts!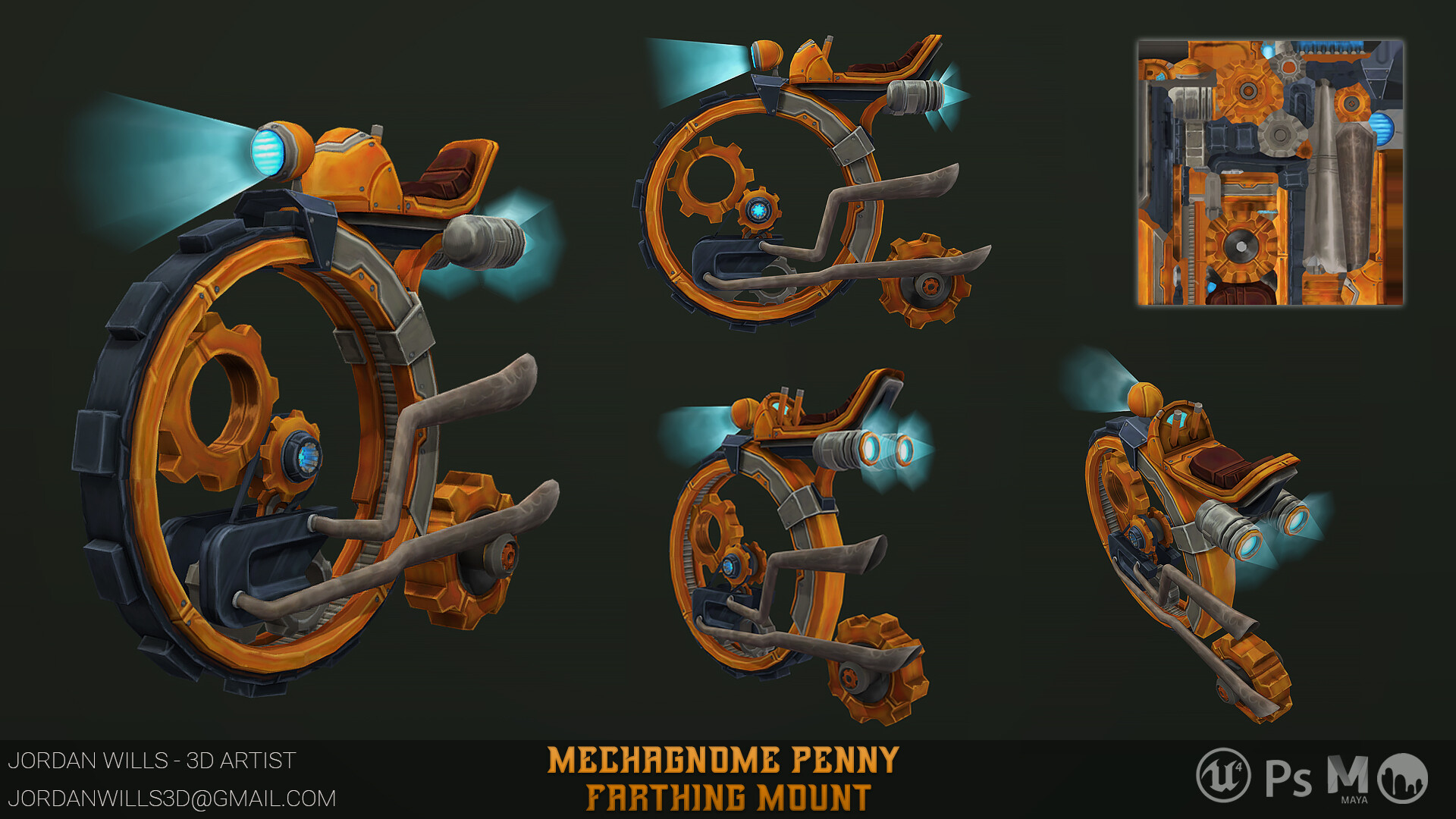 Oh my! Hope we get that mount. I need some more Victorian era clothing as well.
I still want mechanical spider legs…
Gonna go through the thread and pick out some of the nice pictures everyones posted and do a little revamp of the main post. Already started a little with a new thread title and Banner. Tossed our crest up there too!
Its going to be stupendous!


Another patch, another set of races getting new customizations–but not yet mechagnomes! Bumping for visibility. Also, I saw this mockup by keyboardturn of what it would look like for a mechagnome to have individual limbs toggle-able for mechanization.
Also, as new classes are opened up to all the races, I am wondering what mechagnome-themed class assets we might see. Shaman totems could use the tesla coil like the ray guns have, with different glow colors for the different elements. Or, maybe they could use different hologram images of the elements like the mechagnome banner is a hologram?
This would be ideal customization option for mechagnomes. Though as cool as it is I could see a big issue with having flesh limbs with some animations. The swimming animation for mechagnomes in particular relies on them having robo limbs because when they swim their hands turn into propellers which would be difficult with flesh limbs. Though still would love this option if possible.
That is something that would have to be addressed and sadly will probably limit such half and half customization options.
Still no reason not to dream!
Annnd made an adjustment to the thread to bring it more in line with my Void Elf, Blood Elf and Kul'Tiran threads. (Also vaguely my Furbolg but thats more a new race thread whereas the others are customization.)
Great work, Coaxial! Thanks for maintaining this thread. With all the new customizations that have been released over the past couple of expansions for other races, I am hopeful that mechagnomes will see some of these ideas implemented eventually.

great post Coaxial, hope we get some needed polish sooner or later
Thank you!
With luck we'll see some customizations in the next batch or so.
Blizzard hasn't done a huge amount this expansion but hopefully we'll see some neat stuff… Or maybe they'll surprise us and 11.0 will see a big update to a lot of races? I don't have high hopes for that though.
Either way I'll keep doing some work here and there to these threads so Blizzard can see the communities requests!
Hope 10.2 Brings some love
I'm going to necro this thread.
So many times.
Well, I have a question.
Are Mech Gnomes the handicap of the wow world? It would appear their arms and legs are mechanical prosthetics, at least from the images I saw above.
not looking for hate just curious if anyone else thought of this? I did search the thread and saw nothing about prosthetics.
We would count as cyborgs. Replacement of biological parts for superior mechanical replacements.
However that doesn't mean someone who is handicapped due to loss of limb wouldn't possibly be interested in a replacement body part on par with what the Mechagnomes have.
I should continue to support this thread! Good thing I bookmarked it!