I came across a YouTube video uploaded in 2016 (some information is a bit out of date as a result) about Dark Rangers and roleplaying techniques/suggestions. I thought I'd share it here for anyone interested: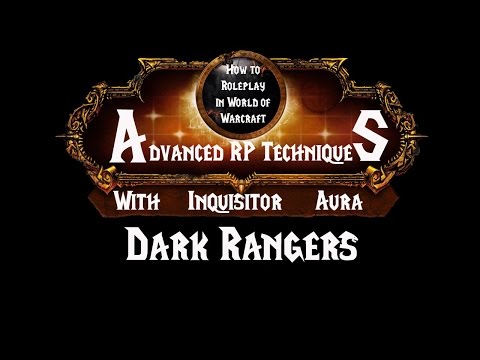 Hopefully, people will be able to roleplay as actual Dark Rangers someday!

Void elf hunters are closest we can get. I tried a blood elf. The blood elf skin colors ruin it.
All they need to do is add a few pale skin tones and red eyes. At minimum it's literally two things.
Scroll down and you will find a Dark Ranger skin, I would rather have that.

He is…
Oh neat!
I personally disagree.
I'm not a fan of the Dark Ranger Skin in that one though I like several of the skins they came up with.
EDIT: Reread it and I'm not as against that Dark Ranger skin option as I thought. I was somehow combining it with the Arcane hunter and the Sineater ones. lol
Finally made a GD version of my Customizations list.
As always, Dark Ranger and San'layn stuff are in there for Blood Elves.
Adding a link here for cross promotion.
After having Somand create my Blood Elf with the burgundy hair color for the Blood Elf customization thread the other night my want and my desire for playable Dark Rangers as a race for the Horde or playable Dark Rangers as a customization for Blood Elves and the Horde has been fully recharged because we look great with those types of options and so I decided to make this post.



You're very welcome.
Would you happen to know if there is a way to add those links on the bottom of the OP without adding a quote to the thread you want linked?
Wondering if I should just make a big thing of the various Megathreads or something.
I'm afraid that I can't help you there as much as I wished I could.
I only know how to do it with the quotes but you might want to @Fen because he might know he's really good at a lot of stuff on the forums.
I may have to do that.
Do you happen to know if linking another thread tacks it to the OP as well?
I think that only works if you link the first post in the thread to it, I might be wrong though, I always link specific posts which links to the thread I take it from so I don't know for sure like for sure and I don't want to pass on the wrong info so sorry in advance if you try that and I'm wrong.
Thanks for the help anyway.
I rarely make my own threads, I prefer to contribute ideas to others. So managing an OP isn't something I know a lot of.
Well good luck with yours and I hope you can figure it out with the least amount of stress and since you linked it in both threads other night I'll continue to check it out here and there and don't forget to ask Fen, lol.
Put it under a Spoiler seems to work for me.
You can look at the bottom of my Void Elf Thread Main Post and you'll see the Spoilered list I made.
I believe it you link to another thread your thread will show as having linked to it. And if they link to your thread yours shows in theirs
Thank you for the information.
At least I know Dark Rangers/San'layn/Void Elf Threads are linked. P would prefer if there was a way to do that without spamming other threads.
Me as well.
Wish I just had an option on the main post to add related threads I come across.
NE dudes getting their faces fixed with options. Let's also fix Dark Ranger customizations not being added

Come on Blizzard, it's easy brownie points.
I am very happy to hear that male night elves are getting three new scowl-less faces. Finally! <3 Yes, I'd love to see Dark Ranger options finally become available. Thanks for the continued support, everyone. Much love.