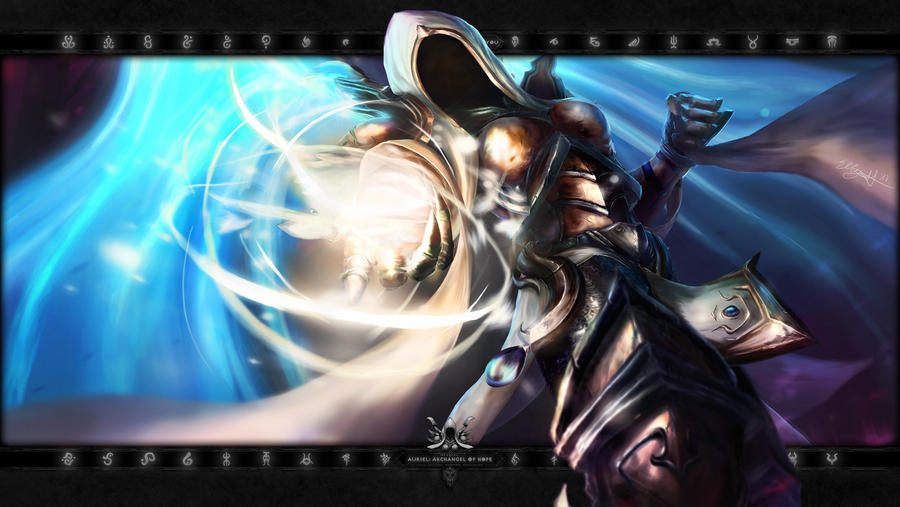 I have broken my mold for the fiery runes series completely with this wallpaper.
This wallpaper has been dedicated to My Mother Karen Manges-Williams. She is my rock in my life. I love her dearly and will miss her dearly too… Broken heart

When I was a teen I wrote a story about Holy Knights with powers and I gave some of my family characters. My moms was Veil.
She told me a story about a dream/vision she had about stuff happening in the future and it was covered by a Veil. I gave that name to her and it stuck. When I saw Auriel… it was the closest thing to my mom's character. Because of that Auriel meant a lot more to me. So now I use her here to represent my mom's character.
I made this wallpaper a little more tweaked and special with the Auriel Nameplate vs having the necromancer's insignia. I didn't want that on this wallpaper, and with everything I did here I'm proud of it.
HK
Featuring Fan Art of Auriel the Archangel of Hope by EllyettWee.
Auriel art for the nameplate by Tamara Bakhlycheva on Artstation.
Wallpaper Arranged by Me
Essence Fiery Runes made by Me
In Loving Memory
Loving Mother, Grandmother & Great Grandmother,
Karen Manges-Williams
1948-2021
Prayer Warrior; Veil