Hi everyone. I haven't made a thread in a long time, but wanted to post this in case it helps others. I figured out a way to Powerlevel another player in couch co-op, which is impossible to do the way we would in multiplayer (T6 rift, level 1 player sits at the entrance or similar methods), as the screen is shared and the level 1 player would get dragged around and one-shot.
I got the idea from a video by Raxxanterax, where he ran around the Eternal Woods without killing a mob and snap-shotted the whole map at level 1 (T1). It was meant for solo-leveling at the start of a season, but it gave me an idea.
When I play with my kids (19 and 22, not really kids) on console, we play Hardcore, so every once in a while, one of us will lose a character. My daughter's Barb died and without a leveled Gem of Ease, she spent an afternoon getting her new Barb back up to 70. She died again, as she forgot to gear enough DR switching from the Earth set to the IK set.
I felt bad, as I didn't catch it in time. I wondered if there was anything we could do to speed things up. Obviously, playing HC, we can't just drag her along. I wondered if we could also snapshot the map at level 1 like Raxx did, and have the other 2 (level 70, geared for T16+) join the game with XP gear and rip through the map.
I'm happy to report this method works like a charm!
Steps:
Start a new character at Level 1, Torment 1 (or higher if you're brave, lower to play it safe but will take longer), and create a solo game in Adventure Mode.

If you have gold, buy defensive gear from vendors and boots with Movement Speed. If you have paragon, put points into Movement Speed, Vitality, Armor, All Resist, etc. You won't need damage as you won't be killing anything.

Go to The Eternal Woods (or your zone of choice - Weeping Hollow is good too) and run around the entire map, kiting mobs until the entire map is exposed and all the mobs are spawned. They will all be stuck at Level 1/T1 difficulty and cannot one-shot a level 1 character. With a little defense, they'll barely hurt the level 1 character.
I tested using a Barb with 338 paragon, nothing in the cube, and blue level 1 gear, putting paragon points into Movement Speed, Armor, All Res, and Vit. Mobs couldn't touch me, but a fresh level 1 with no gold might not have it so easy.
TP back to town.

Have your couch co-op buddies join your game with their XP gear and GoEs, and blast the map, trying to string along as many Massacre bonuses as you can.

(edit) TP back to town and Exit the game. Rinse and repeat with the new character snap-shotting a new map in a solo game. All the monsters stay at the level they spawned at and do not scale.
The trick is to have the new character spawn the entire map solo, so that newly spawned mobs cannot kill the character as they scale up in difficulty. If you start the game as a multi-player group, the game will load at the highest character level in the party, which is what we don't want.
We got her to level 34 on the first run, in less than 10 minutes. We tried a few other zones, but Eternal Woods seems ideal for it. Anywhere with high monster density should work, though. I'm thinking Halls of Agony might be good. Note: on the 2nd run, the monsters were level 34, of course, as she was level 34.
Here's the video by Raxx demonstrating the snapshot (on PC) if you're not sure what I mean: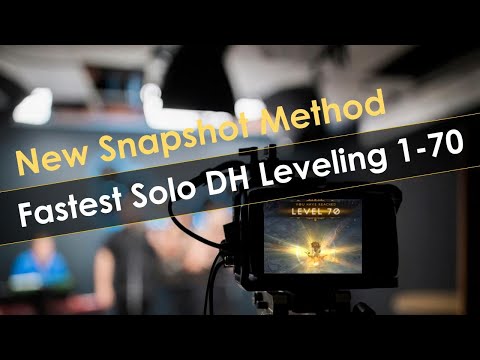 I realize this method isn't useful for everyone as few play Hardcore regularly, and it's easier to get a Powerlevel online, or level yourself with a Gem of Ease, but hopefully someone finds this useful. Snap-shotting isn't a new concept, of course, and perhaps there are players who have already figured this out (game is 10 years old after all), but I have never seen a post about it anywhere, so I thought I'd share.
If you try it out, post here and let us know how you do and what zones you used. I can always make a video if requested. Thanks!