Hello everyone,
Our previous recruitment thread has capped/is old for the third time so here's a new one.
So, let me tell you about our community as we are currently in open recruitment for our 2 guilds on Tichondrius US Horde, for Season 4 of Shadowlands and for Dragonflight
Who are we?
We are Warsong Vanguard . We're an established power house World PvP/Rated PvP/Progression PvE guild led by a multi-class 2k+ exp leader. and 2k Co-GM's. Antorus 11/11M Cutting Edge, Uldir 7/8M, Nyalotha 11/12M, 8/10M CN, 8/10M SoD, 11/11H SoF. We've run over 500+ For The Horde runs; small, medium, and large scale World PvP and much more. We're currently opening our doors to our 2 guilds Warsong Vanguard and Warsong Cartel. We're a great gaming community with absolutely amazing people who go above and beyond to help people in need. We've been around for over 7.5 years!
Raid Team Recruitment:
Limited Raiders
Days: Tuesday and Thursday 6:30-9:00PM Server
Looking for: Currently Not Recruiting
CN: 10/10H, SoD: 1/10M, SoF: 11/11H
Plans: Normal → Heroic AOTC / See how far we get in Mythic
Wrong Hole Raiders
Days: Tuesday and Thursday 6:30pm-10:00PM Server
Looking for: 1 Ranged DPS: Mage, Ele, 2 healers: Rsham, evoker, or hpal
Plans: Heroic AOTC → Mythic
RGB Team Recruitment:
Nightmare
Days:Thursdays, Fridays 6:30pm Server start time
Looking for: 2 healers, non evoker
What do we do?
We do a little bit of everything! But here is a list of the majority of the activities we do and offer:
World PvP.
Rated Battlegrounds.
Rated Arenas.
Guild War-games for gold and prizes.
Normal, Heroic and Mythic+ dungeon runs.
Constant normal BG farming for new and returning players.
PvP training for new and returning players.
Guild PvP Tournaments for gold, prizes, pets, etc.
Raiding
Gank protection. (We form groups to help lowbies being camped by higher levels, and etc.)
Old school raid farming for transmogrification gear.
WoW Token giveaways. (When available.)
Leveling help, bags, 100+ gold repairs, etc for new players.
TMog Contests (Gold Prizes)
Drunkin Gliders Event (Gold Prizes)
Soon to be Guild Dragon Racing events (Gold Prizes)
And much more!
What is required in terms of Voice Com and Add-ons?
We require you use the basic and simple PvP/PvE addons when grouping with our core groups.
Addons:
Battleground Enemies - RPvP Department
Gladius - RPvP Department
Greenwall (it merges all guild chats and is useful)
Healers have to die * Nameplate Cooldowns - RPvP Department
DBM or BigWigs for PvE Raid teams
Voice Comms: Discord
Do we HAVE to attend certain events?
No, but we do ask you to help and or join in when you can. There are many guilds who will kick you out of the guild for not attending events such as World PvP and other events. We do not condone this, as everyone pays to have fun and play their game. If you're able to attend great, if not then no hard feelings, maybe next time. When we host World PvP events, we do require you to get on Discord to follow directions and listen to targets being called out.
Do we have any rules?
Yes, we have a listing of rules on our website. However we keep it pretty simple, and most are as follows and keep in mind we do NOT tolerate the following:
Trolling in general, in guild chat or trade chat, etc.
Racism, or racist jokes in and out of guild chat which also includes Discord and open world channels.
Spamming, no creating/starting drama, and we do not tolerate childish attacks of peoples' Real Life.
We have a 0 tolerance rule system and we only give warnings once.
How can we join the guild?
You can whisper anyone and ask for an officer. Only officers, and Warlords can invite to either one of our guilds.
Please keep in mind, each guild does a bit everything, however this is a quick list of what they do:
Warsong Vanguard - Core WPvP/Rated PvP/PvE Progression (Level 50+only accepted.)
Warsong Cartel - Currently Leveling guild for level 1-40.
Our 6 year anniversary video: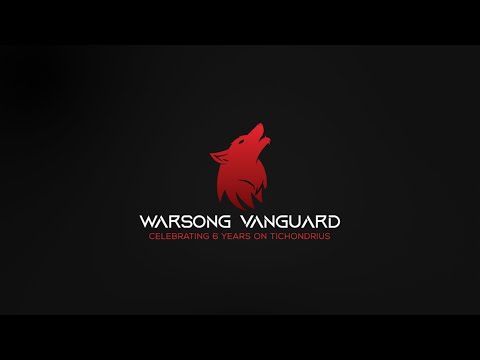 Drunkin Glider Event: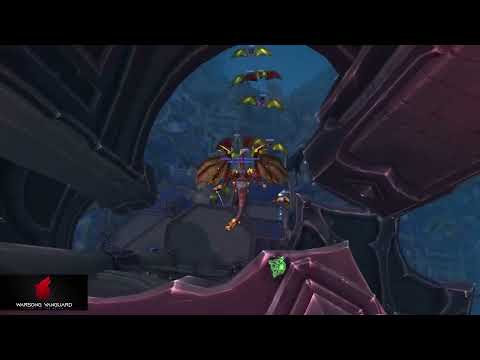 Mythic Argus, Cutting Edge video
Visit us at www.WarsongVanguard.com or you can also visit our YouTube @ www.youtube.com/WarsongVanguardofTichondrius