A lot of players won't consider it a battle pass, however Blizzard implemented a system that works like that during Legion/BFA.
It's not a request to implement a new monetization system.
In the video game industry, a battle pass is a type of monetization approach that provides additional content for a game usually through a tiered system, rewarding the player with in-game items for playing the game and completing specific challenges.
Similar to this kind of Battle pass, we've the forgotten:
Prestige PVP System
This system works similar to a battle pass, get honor levels and progress for rewards.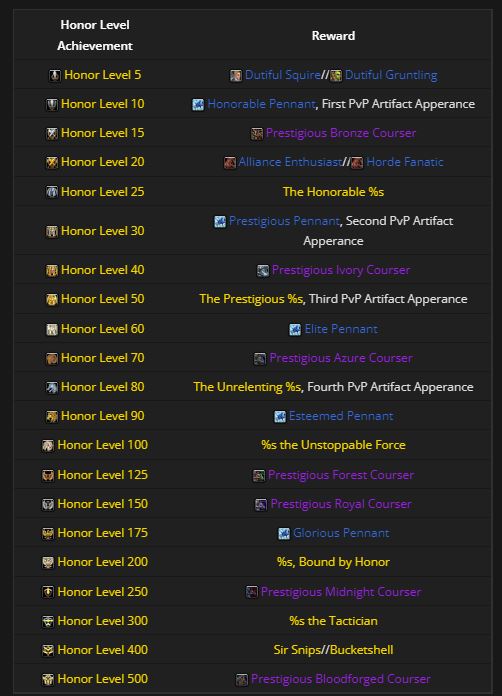 Right now this system is obsolete, compared to other games the rewards are split into some sort of exponencial goal, it starts with rewards every 5 lvls but later each 10-25-50-100.
IMO that's a bad way to promote the system, it could have some rewards with unused mount colors, gold, unused pets…etc always keeping all the current rewards, adding rewards between previous progress and new progress in next expansions.
Besides the goals and rewards, progressing through the system and levels should be improved.
Almost all other games that have some sort of battle pass provides daily/weekly quest, right now WoW has few quest of that sytel for PVP (Even removing A New Deal for S4).
I'd suggest to include quest for attacking a base, defending a base, killing X amount of players on BGs/Open World/Arenas besides the current quest, similar to games like Fornite in order to avoid troll behaviour among the same team, some quest progress should be provided to the whole team or the players around the objective…
This is a casual participation system that any player could engage from different sources and it does't required too much skill since honor could be earn from different activities.
Also, Devs should do something about Honor for Gear upgrades and Honor as EXP for this kind of system, maybe Blizzard doesn't want to provide huge amount of honors or new ways to earn this progress due to the attachement to player power.
This a great evergreen system, since it's not related to seasonal content, please improve it.
Right now, I just do some BGs casually and spam Arathi Comp Stomp Brawl for honor but it's not good gameplay, I'll do more BGs if there's some objetives similar to other games with specific dailies.