Destroying rails and saying hello when I respawn.
Using Lúcio DJ Emote (That Token one) on spawn and say "Give yourself to the rythm" or "You gotta believe!"
I always go for this type of kill no matter what. It usually doesn't work, but it feels so great when it does. It's easiest on tanks, as you can see.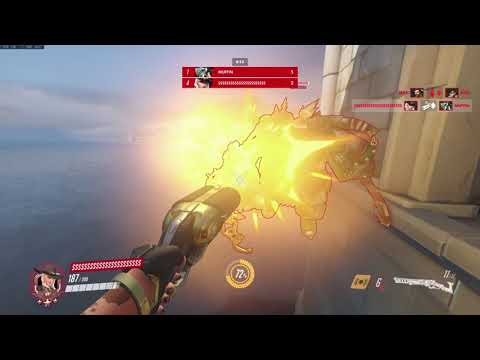 Breaking the guitar because I can't play it
Obsessive reloading, for sure. If I get even a tiny break inbetween pressing M1, I must reload immediately. This has gotten me killed haha.
As Mercy in particular, I always melee if I GA past an enemy. Finishing them off is so satisfying…
Idk if this is OCD, but I accidentally rebound Zen's "Thank You" to "No."
I just kinda left it, and now every time someone does something nice for me, I thank them by saying,
"No."


Breaking anything that can be broken… I can't help myself.
You monster!
That is so great, I've not seen people do that before.
I use the "hello" Voice line everytime I do something wrong like when I C9 for example



With D.va, I must get a punch in with both arms before the round starts.
With Zarya, I must rocket jump my way from spawn at the start of Defense.
On Volskaya, I must jump from table to table punching books.
I spam "sorry" after I die because I feel like it's my fault most of the time.
Also a combination of "sorry" and "thanks" everytime Mercy uses rez on me because she's using an impactful cooldown on me.
I must use "DIPSTICK!" after every kill.
Blow 3 up with tire? Dipstick!, dipstick!, dipstick!
I HAVE to spray my Brig spray on back of payload or else I feel like I'm gonna lose the match
I have to suicide with barrage if we are winning and there's no chance we need my help anymore
All the panels on the KotH drop ships must be destroyed before I leave
I tend to jump a lot doesn't matter what hero I just spam the spacebar for some reason.
to t-bag players.
I even t-bag sleeping teamamtes

I have this thing too. It actually does help you get back to point faster tho tbf, but I rocket jump SO MUCH I think I've died a few times because of the extra self dmg

She's like a duck. On the ground she waddles around slow and humble, but when she takes to the air, she truly flies!
How did she not get better rocket jump this patch?!