Hmm, do Blizz employees get a box earlier than the rest of us?
Can we have something put in game for those of us you guys hate in other countries so we can benefit from the bonus loot boxes too?
Can you buy multiples? If not, can't wait to get 4 duplicate stickers.
limit 30 per participant
Dammit they're onto us
But will it be available in other regions like Europe and Asia?
I think they're vanilla-y apparently.
Pretty sure the cereal is US exclusive atm, they mentioned during blizzcon; I suspect that it's due to food safety standards and nutritional labeling laws. Honestly considering reselling or trading for steamkeys overseas if it's legal enough.
I'm sure they got (or will get) some early. A limited number of boxes were actually available at BlizzCon, but I didn't manage to grab a voucher for them in time.
Are Lucio-Oh's vegan? I can't find ingredients anywhere
they taste like healing beets
I feel people overall would rather have an exclusive collectible item over a loot box boost.
The time/money it cost to buy the cereal, it would leave people better off just buying the loot boxes so there is nothing to gain here.
I take it the pop tarts poster give aways were not successful? ( there should have been a dva poster).
I don't know what they taste like but when the Overwatch Team is literally eating the cereal out of Loot Boxes, they must be good.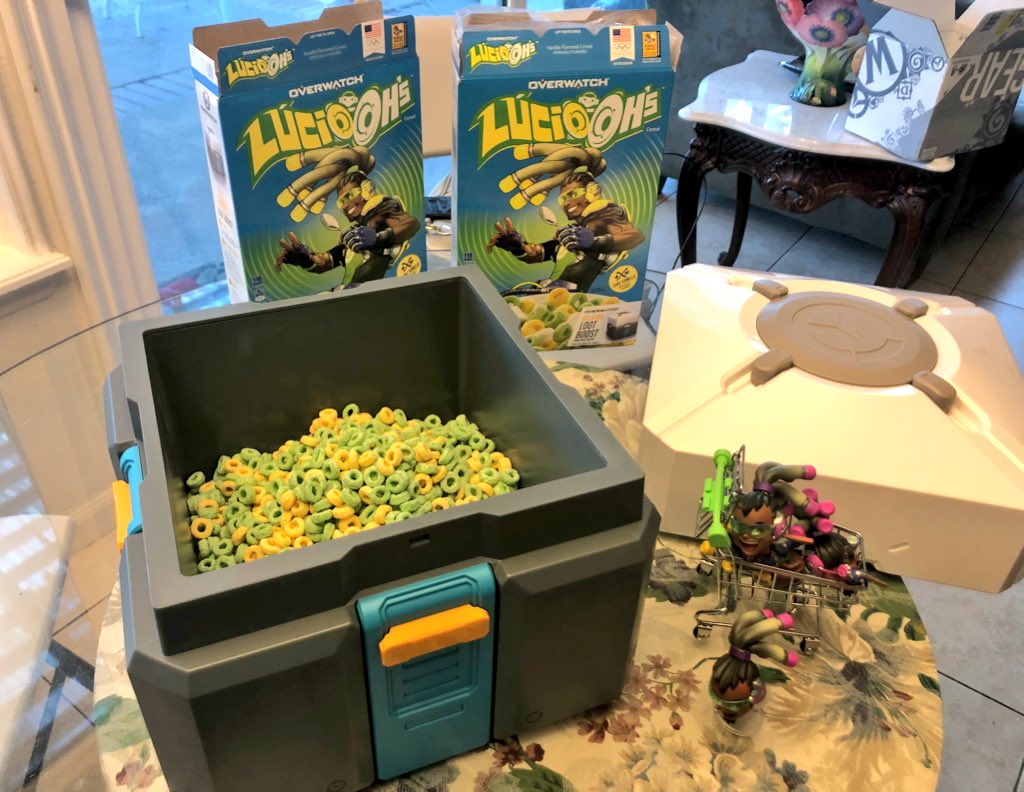 Click the twitter link below for videos and more pictures:
lmao haha
Please send some to Australia
Gah! I don't think these will ever hit Australia.
Now I just need to skate, dance and save the world on an empty stomach at breakfast!
Imagine if buying lucio ohs gave you a code to redeem SR for your account WeRe AlL Gm NoW
Are the Lucio-Ohs a US only thing? I would love to have one of those boxes!
Unfortunately yes. Only in North American markets where you can find, Kellogg's brand products in your local stores.
There are Kellogg's in Australia too! That is unfortunate though, I love Lucio and I really want the box, I don't even care about the cereal