mine too but when i join game i see no new changes to skills? my barb tree looks the same
Pure energy ES sorc rocking Orb/Hydra is amazing! Almost unkillable if you play properly enough.
How it works with base gear and from scratch, we will see come Ladder, but right now on a full Tal sorc, its a beast.
Thanks for making Hydra actually fun and enjoyable!! They melt always the OB Knights in Chaos.
Look at synergies. I was not shure when I started playing today because I had to go to the kitchen, by the time i got back the launcher was sitting there like nothing happened. But I had a Druid ready and waiting so I hopped on, and looked at synergies, like Raven. It had the tooltip updated showing all 3 new synergies. That's how I know it updated. You need to look at obvious changes on the skills.
I love the new patch but I got the black screen bug
WHen I host a game in 1/3 of the cases I just sit in front of black creen and it requires restaring th game

Chiming in to share that we deployed a fix for the Character lock & black screen issue. The update should fix all those affected by the bug previously, and prevent future instances of the bug. We'll keep our eyes on posts across our forums to see if the issue still persists - thank you all for your patience!
Glad to see that one get fixed ASAP. Hopefully it works better than the fix for the non-functional Infinity runeword items did.

I agree there is zero justification to lock content out of single player. Blizzard just has a burning hate for anyone not playing on battle.net and inflating their precious monthly active users stats -_-
Has anyone else lost their remaining respecs since the patch release?
I keep crashing since patch 2.4. I tried everything i could, really everything .Can someone help me? im crashing every 5min and it made me miss a dclone today, so yeah… help pls haha
my D2R doesnt show the new 2.4 patch, Am i doing something wrong?
The version number shown in the launcher under the play button should be 1.2.68992
Incorrect in the live stream they did say not every ladder will have new items/Rune words.
Players are taking what they said out of context. I understand majority of players want new items/RW every ladder. Thats just not the case.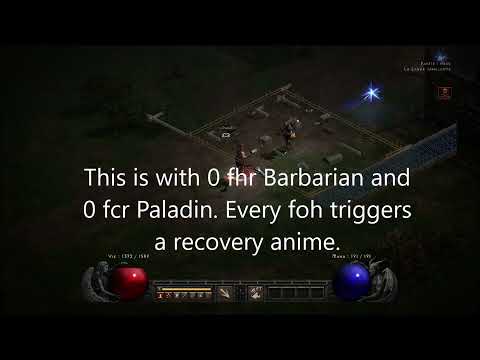 bugblo2R…
Why did you delete FHR and FBR ?
I think the FHR demands have become even more awkward thanks to the ever-decreasing 2.4 patch.
rollback 2.3 ver… FHR & FBR
waiting for ladder… kinda weird to release patch without ladder a week apart…
regardless…appreciate the maintenance and progress.
hopefully to surprise us with some additional changes when ladder release … game lobby
I'm curious about this too. The 2.4 patch notes say "ladder only" for some cube recipes and for some runewords.
That's BS. For months we were told single player would get everything ladder gets.
I hope this is clarified/fixed.
Cool.
Now clarify if there is in fact ladder only stuff, or if single player offline gets the new cube recipes and new rune words. It was said for months that there wouldn't be "ladder only" stuff anymore; that SP offline people would get the new things.
Also, in case anyone actually reads this…Let's get stackable gems, runes, and potions in our stash already. If it's somehow impossible/too difficult, give us infinite stash pages then. Modders added that to D2:LoD years ago, I know it works.
I am looking forward to playing a summon druid and maybe using a non-act 2 merc for once, too.
Amen! I took this for granted in D3. Love the stacked gems and runes. I think that or maybe like challenges to add more stash space. People love to collect and it's a big part of the game but stash space takes away what you can keep. I've thrown away stuff I'd love to hold onto but I can't because I need to keep the functional gear a priority.
Regardless, kudos to the D2R team and the 2.4 patch. I never thought I would still be playing the game I loved growing up. Now that's longevity!
The area levels are unchanged in classic (non-expansion). Please change them there too.